We value the privacy of our patients. All patients have given written consent to display their photographs. A photo release form must be signed before any photos are used on this site.
Back to Gallery | Patient 23 Gallery
This lady wanted to improve her appearance of her nose and chin, she was particularly bothered by the appearance of her profile view. Her frontal view was acceptable to her with the exception of a small amount of straightening of her nasal tip.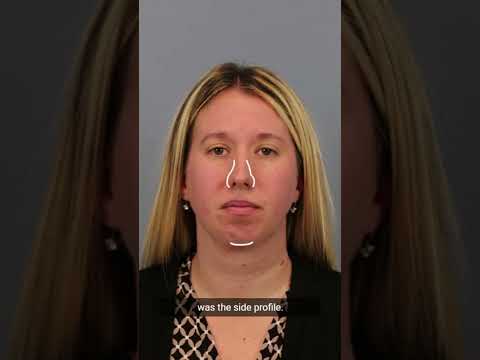 Rhinoplasty Patient Testimonial.
Frontal:
As the patient requested, there are no major changes on the frontal view, simply straightening of her nasal tip.
Left Lateral (Smiling):
This view shows the improved profile view on smiling. The dorsal hump has been reduced, the nasal tip has been brought a little closer to the face and rotated upward slightly. Finally, the chin implant improves the facial harmony and the appearance of the area under the chin (the submental area).